8th Annual Community Book Drive
Collecting books August 1 – September 12, 2019
For children ages 0-11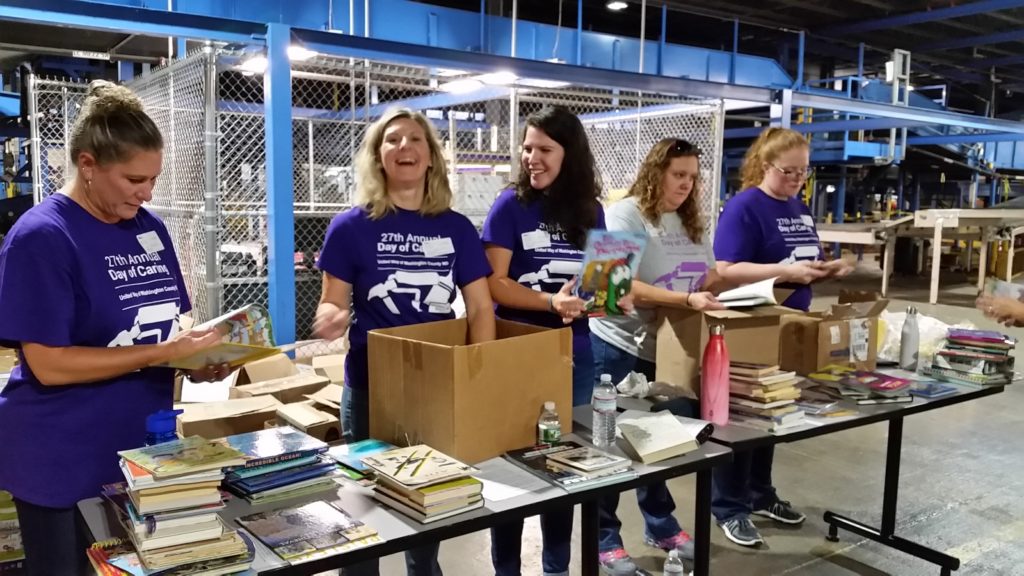 The Community Book Drive is a partnership of the Hagerstown Area Religious Council (HARC), United Way of Washington County, Hagerstown Rotary Club, and FedEx Ground. Last year more than 14,000 books were collected and used through the new Community Book Warehouse, which is distributing them to community organizations, schools and individuals to get them into the hands of vulnerable children.
Everyone can collect books! Work with your churches, civic groups, businesses, and other organizations to collect age appropriate books, specifically geared to children ages birth through eleven (elementary school).  Donated books can be new or gently used.  Any books in this age group are eagerly accepted, but if you're purchasing, here is a list of Recommended Books. (document attached)
Posters/flyers for collection sites and distribution:
Two Versions of Two page Poster/Flyer – Drop Here and 10 Reasons
If your group would like to collect books for the book drive, please contact Terri Gwizdala at gwizzy2000@gmail.com or Kathy Powderly at kathy.harc@gmail.com or 301-842-4272.
Visit the Early Childhood Advisory Council website for more information about early childhood education and literacy in Washington County.
Books will be collected at the following participating locations:
(This list will be regularly updated as sites are confirmed/added.  Please note that locations without addresses and hours are not open for public drop-offs)
Amcor Hagerstown 
Church of the Holy Trinity
First Christian Church
1345 Potomac Ave, Hagerstown.  M, T, Th, F 8-1 and 2-4; W 8-2:30
First Data
Hagerstown Rotary Club
Horizon Goodwill Industries
Mt. Nebo Preschool
Otterbein United Methodist Church
108 E. Franklin Street, Hagerstown.  M-F 8-4
United Way of Washington County
83 W Washington St., Suite 101, Hagerstown.  M-F 9-5
unitedwaywashcounty.org
Books will be picked up from participating collection sites September 13-18 by FedEx Ground volunteer drivers and will be sorted and counted on the United Way Day of Caring, Thursday, September 19.  Collected books will be distributed throughout the community where most needed for early childhood literacy programs and vulnerable children.