Introduction
The Interfaith Coalition of Washington County Maryland was formed by the Washington County Council of Churches (now HARC) in February 2002 with representatives from Jewish, Muslim, and Christian faiths to provide a forum for interfaith dialogue in our community following the tragic events of September 11, 2001.  Persons from Baha'i and Buddhist traditions as well as other religious and humanist communities participate today. We see our coalition as an outreach of the Hagerstown Area Religious Council.
Mission Statement of the Interfaith Coalition
The Interfaith Coalition of Washington County exists to bring people of different beliefs together to promote peace, respect, and compassion in our local community. Through dialogue and public presence, we welcome each person's unique spiritual perspective, strive to learn more about each other, and seek to honor the diversity of our various traditions. (Revised November 9, 2011)
Get Involved
The Interfaith Planning Team, which envisions, coordinates, and carries out events, meets regularly through the year. Persons interested in interfaith dialogue are encouraged to attend or share their ideas with the planning team.  Contact Valerie Wills, Coordinator, at 301-745-6576 or vtwills@aol.com for more information.
Church of the Wild ~ Two Rivers is an emerging community, meeting in the midst of and sharing with the abundant life all around us. Our intent is to deepen our connection to the Sacred by being more open, present and available in each moment. We learn from the earth and trees, the skies and water, and all living beings in the web of the natural world. Located in an area where the winding Shenandoah meets the majestic Potomac River, we are nurtured in silence, beauty, and connection.
We gather monthly in nature in times of contemplative practice, sharing our voices in spoken word and song, and in silent walks in nature. We are ecumenical, open to all or no faith traditions. We hope you will join us as we come home to our truest selves in the family of all Creation.
Website:  https://www.churchofthewild2rivers.com/
Facebook page:  https://www.facebook.com/churchofthewild2rivers/
Statement of Peace— In light of the recent escalation in fear and hostility toward people of other religious traditions, the Interfaith Coalition and the Hagerstown Area Religious Council have issued a joint, public statement that encourages persons of faith in our community to use "language that promotes respect and civility and discourages language that demeans others' beliefs or incites violence." We invite all the religious leaders in our community to sign the statement to show our unity and desire to live together peacefully. Follow this link to download the Statement of Peace.
Yard Signs: "No matter where you are from, we are glad you're our neighbor." Hagerstown Area Religious Council has 18" x 24" yard signs available to show your support for diversity. The words are displayed also in Spanish and Arabic. Cost is $15. Purchase a sign online or contact HARC at 301-842-4272.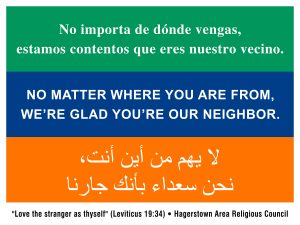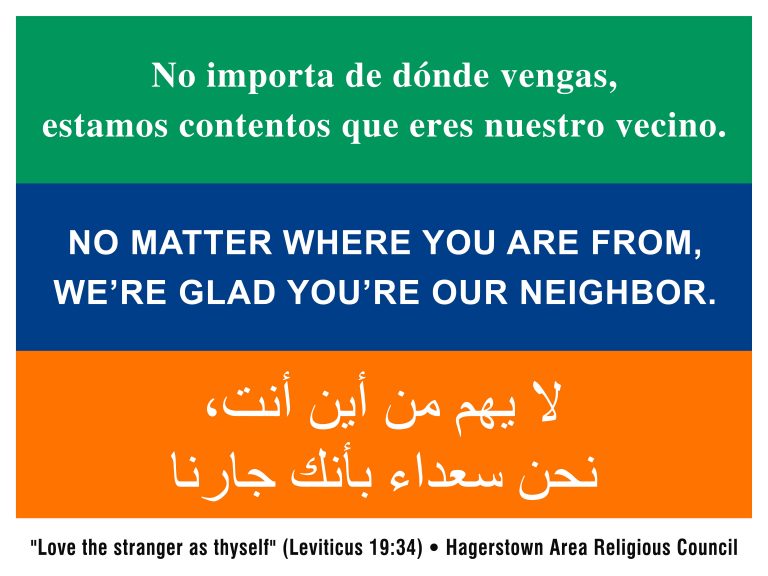 Interfaith Calendar
One of the initiatives of the Interfaith Coalition of Washington County is a weekly Interfaith calendar – a listing of upcoming events and commemorations from religions around the world. The listing is for the week ahead — Thursday to the following Wednesday – to raise awareness of what is going on with practices in the many faiths of our world. For suggestions or additional input, contact Ed Poling at elpoling1@gmail.com
Calendar for April 21-28, 2021
Tuesday April 13- Thursday May 13 : Ramadan—(ISLAM)– the month of fasting (ending with Id al-Fitr on May 13 at sunset) during which physically able Muslims do not eat or drink from the first sign of dawn until sunset. A time of self-examination and religious devotion.
 Monday, April 19-Tuesday, April 27: Aymbil Ori (First Half)—(JAINISM)—a nine-day (approximate) festival, occurring twice a year, when devout Jains undertake a special type of fasting. Over the course of this observance, Jains revere the Nav-pads.
Tuesday, April 20-Saturday, May 1: Festival of Ridvan—(BAHA'I')—termed by Baha'u'llah the "Most Great Festival' and the "King of Festivals", commemorates the twelve days that Baha'u'llah spent in the garden of Ridvan outside Bagdad. The festival commemorates Baha'u'llahs' public declaration of His mission to His family and close followers. (The first, the ninth, and the twelfth days of Ridvan are Baha'i' Holy Days on which work is suspended.
Wednesday, April 21: Ramanavami—(HINDUISM)—celebrates the birth of Rama, the seventh incarnation of the God Vishnu. During the previous eight days, Hindus read the Ramayana, a Hindu epic, which tells the story or Rama.
Saturday, April 24: Lazarus Saturday—(CHRISTIANITY, EAST)—commemorates the raising of Lazarus from the dead by Jesus (John  11:1-45)
Sunday, April 25:

Palm Sunday—(CHRISTIANITY, EAST)—celebrates the entry of Jesus into Jerusalem.
Mahavira-jayanti—(JAINISM)—celebrates the birthday of Lord Mahavira (Great Hero), the 24th Tirthankara (and the last of this time cycle).

Monday, April 26–Wednesday, April 28:Theravada New Year—(BUDDHISM)—New Year festival for Theravada Buddhists, celebrated   for three days from the first  full moon day in April
Monday, April 26-Friday, April 30:Holy Week—(CHRISTIANITY, EAST)—begins in the Eastern Churches the day after Palm Sunday and ends on Holy Friday, commemorating the passion of Jesus Christ, i.e., his submission to death by crucifixion.
Tuesday, April 27:

Jamal—(BAHA'I')—(Glory), the second Baha'i' month.
Hanuman Jayanti—(HINDU)—celebrates the birth of the God Hanuman, a loyal devotee to Lord Rama. Celebrants mark Hanuman's birth by reciting the sacred text, Hanuman Chalisa, and performing special pujas (prayer rituals).

Wednesday, April 28:Nichiren Foundation Day—(BUDDHISM)—Anniversary of the foundation of the Nichiren Sect in 1253. (Mahayana – Nichiren)
Month of April: Sxanel (The Bullhead Moon)—(ABORIGINAL SPIRITUALITY)—This moon represents the visibility of Sxanel or what westerners call Orion's Belt (Coast Salish).
——- From Multifaith Calendar 2021, www.multifaithcalendar.org ———-
Download a copy of the above Multifaith Calendar here
Upcoming Events
Church of the Wild ~ Two Rivers: Sunday, April 2, 3-5 pm meeting at Shepherd's Spring Outdoor Ministry Center, 16869 Taylor's Landing Road, Sharpsburg, MD 21782. For details and free registration, see our Event Page.  You can find out more on the website: churchofthewild2rivers.com and also on the Facebook Facebook page @churchofthewild2rivers.
Interfaith Winter Retreat – February 5, 2022, 9 am – 4 pm: The Interfaith Coalition of Washington County invites you to their annual winter retreat. Theme, leadership, and details to be announced.
Seeker's Circle Book Club – CANCELED Until Further notice meets six times a year at the Washington County Free Library in downtown Hagerstown, 7:00 pm Study Room 333, reading and discussing books that describe the religious life and traditions of several of the world's religions and current issues in interfaith dialogue. Inquiries to Gwen Skrabak, 301-797-1603 or Kathleen O'Connell, ko01@washcolibrary.org / 301-739-3250 ext. 166. Books can be purchased online or, if available, borrowed from the library.
Next Planning Meeting:  Contact Valerie Wills for time and location.
Open or download Upcoming Events document
Officers
Coordinator – Valerie Wills
Vice Coordinator – Paula Myers
Secretary – Carol Haggerty
Treasurer – Salih Yumlu
Publicity – Sandy Boyer and Ed Poling
For more information, contact: Ed Poling (301)766-9005, elpoling1@gmail.com
Find us on Facebook: https://www.facebook.com/groups/125909250824944/