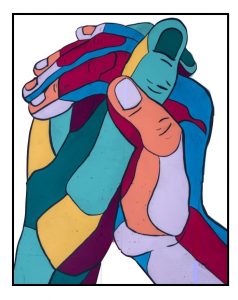 Introduction
The Interfaith Coalition of Washington County Maryland was formed by the Washington County Council of Churches (now HARC) in February 2002 with representatives from Jewish, Muslim, and Christian faiths to provide a forum for interfaith dialogue in our community following the tragic events of September 11, 2001.  Persons from Baha'i and Buddhist traditions as well as other religious and humanist communities participate today, and the interfaith work has blended into HARC as part of the organization's overall mission and identity.  Today's interfaith team is still energized by the important work of building bridges, understanding, and relationships across religious boundaries in Washington County, Maryland.
Interfaith Team Mission Statement

HARC's Interfaith Team has a purpose of bringing people of different beliefs together to promote peace, respect, and compassion in our local community.  Through dialogue and public presence, we welcome each person's unique spiritual perspective, strive to learn more about each other, and seek to honor the diversity of our various traditions.  (Revised April 19, 2022)
Get Involved
The Interfaith Team, which envisions, coordinates, and carries out events, meets regularly through the year. Persons interested in interfaith dialogue are encouraged to attend or share their ideas with the team.  Contact Rev. Sandy Boyer, Coordinator, at sandy.boyer@gmail.com or contact the HARC office at 301-842-4272 for more information.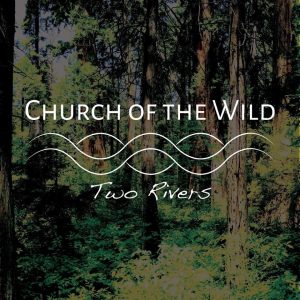 Church of the Wild ~ Two Rivers is an emerging community, meeting in the midst of and sharing with the abundant life all around us. Our intent is to deepen our connection to the Sacred by being more open, present and available in each moment. We learn from the earth and trees, the skies and water, and all living beings in the web of the natural world. Located in an area where the winding Shenandoah meets the majestic Potomac River, we are nurtured in silence, beauty, and connection.
We gather monthly in nature in times of contemplative practice, sharing our voices in spoken word and song, and in silent walks in nature. We are ecumenical, open to all or no faith traditions. We hope you will join us as we come home to our truest selves in the family of all Creation.
Website:  https://www.churchofthewild2rivers.com/
Facebook page:  https://www.facebook.com/churchofthewild2rivers/
Yard Signs: "No matter where you are from, we are glad you're our neighbor." Hagerstown Area Religious Council has 18" x 24" yard signs available to show your support for diversity. The words are displayed also in Spanish and Arabic. Cost is $15. Purchase a sign online or contact HARC at 301-842-4272.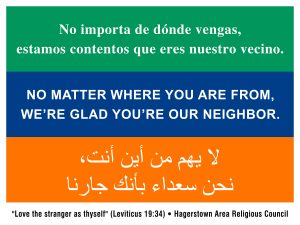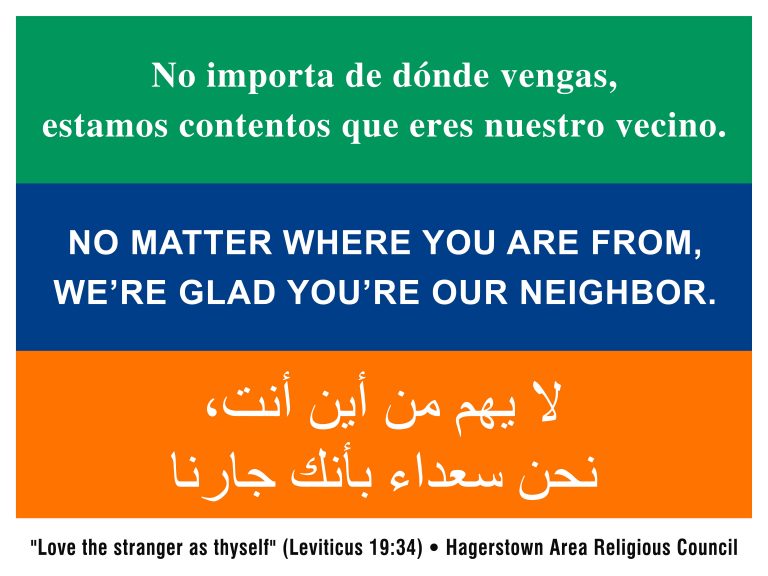 Interfaith Calendar
One of the initiatives of the Interfaith Coalition of Washington County is a weekly Interfaith calendar – a listing of upcoming events and commemorations from religions around the world. The listing is for the week ahead — Thursday to the following Wednesday – to raise awareness of what is going on with practices in the many faiths of our world. For suggestions or additional input, contact Ed Poling at elpoling1@gmail.com
Calendar for June 30 – July 6, 2022
Wednesday, June 29—Sunday, July 3: Ghambar Maidyoshem—(ZARATHUSHTI)—celebrates the creation of water, the sowing of the summer crop and the harvesting of grain.
Wednesday, July 6: Tenzin Gyatso—(BUDDHISM, Mahayana)—Birthdate of H.H. Dalai Lama Tenzin Gyatso (b. 1935), the 14th and current Dalai Lama (Tibetan).
Month of June:  Centeki (the Sockeye Moon)—(ABORIGINAL SPIRITUALITY)—The sockeye returns during this month, which is the same color as the pale grey sockeye salmon. (Coast Salish)
Month of July: Cenhenen (The Humpback Salmon Returns to Earth)—(ABORIGINAL SPIRITUALITY)—Saanish Peoples humble themselves to the salmon. (Coast Salish)
——- From Multifaith Calendar 2021, www.multifaithcalendar.org ———-
Download a copy of the calendar for June 30 – July 6 here
Upcoming Events
Church of the Wild Two Rivers:  Shepherd's Spring Outdoor Ministry and Retreat Center,16869 Taylors Landing Road,Sharpsburg, MD 21782 – Registration is free and required. As always, all are welcome.
Information: churchofthewild2rivers.com; churchofthewild2rivers@gmail.com
Interfaith Winter Retreat – Postponed due to COVID.  This event will be rescheduled when we are able to safely meet in person.
Seeker's Circle Book Club – On Hold Until Further notice meets six times a year at the Washington County Free Library in downtown Hagerstown, 7:00 pm Study Room 333, reading and discussing books that describe the religious life and traditions of several of the world's religions and current issues in interfaith dialogue. Inquiries to Gwen Skrabak, 301-797-1603 or Kathleen O'Connell, ko01@washcolibrary.org / 301-739-3250 ext. 166. Books can be purchased online or, if available, borrowed from the library.
Next Planning Meeting:  TBD
Interfaith Team
Coordinator – Rev. Sandy Boyer
Board Liaison – Rev. Valerie Wills
Secretary – Paula Myers
Communications – Kathy Powderly
Rev. Ed Poling
Rabbi Mark Perman
Imam Momin Shahzad
Rev. Margaret Brack
Rev. Katie Penick
Rev. Dave Britt
Rev. David Baker
Abdul Waheed