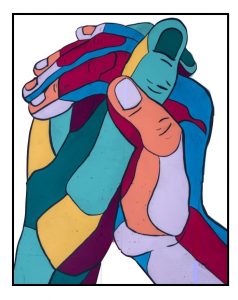 Interfaith Team Mission Statement

HARC's Interfaith Team has a purpose of bringing people of different beliefs together to promote peace, respect, and compassion in our local community.  Through dialogue and public presence, we welcome each person's unique spiritual perspective, strive to learn more about each other, and seek to honor the diversity of our various traditions.  (Revised April 19, 2022)
History
The Interfaith Coalition of Washington County Maryland was formed by the Washington County Council of Churches (now HARC) in February 2002 with representatives from Jewish, Muslim, and Christian faiths to provide a forum for interfaith dialogue in our community following the tragic events of September 11, 2001.  Persons from Baha'i and Buddhist traditions as well as other religious and humanist communities participate today, and the interfaith work has blended into HARC as part of the organization's overall mission and identity.  Today's interfaith team is still energized by the important work of building bridges, understanding, and relationships across religious boundaries in Washington County, Maryland.
Get Involved
The Interfaith Team, which envisions, coordinates, and carries out events, meets regularly through the year. Persons interested in interfaith dialogue are encouraged to attend or share their ideas with the team.  Contact Rev. Sandy Boyer, Coordinator, at sandy.boyer@gmail.com or contact the HARC office at 301-842-4272 for more information.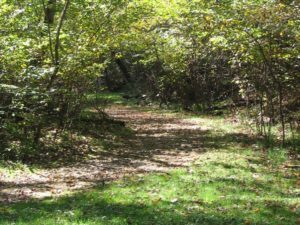 Upcoming Events
Interfaith Progressive Dinner – September 23 from 5:00 – 9:00 pm – Various locations. In honor of the International Day of Peace, an Interfaith Progressive Dinner will be held at three different local houses of worship, with four faith traditions represented. One part of the meal will be served at each location as we progressively move as one group from place to place. This is an opportunity to: Learn about different faith traditions, sample spiritually and culturally relevant foods, celebrate the International Day of Peace and build community. Cost $25 per person.  Event is limited to a maximum of 100 people.  Tickets and schedule will be available soon.
Interfaith Book Club: "Print and Potluck" – October 15 from 3 p.m. to  5 p.m. – Unity of Hagerstown, 18313 Lappans Rd, Boonsboro, MD 21713. The Interfaith Team of the Hagerstown Area Religious Council (HARC) is offering "Print & Potluck," a book club with NO REQUIRED READING! We'll gather for light food and drinks and share whatever book—prose or poetry, fiction or nonfiction—has inspired us individually. A book that has moved us to think, learn, feel, relax, or do. Come with or without the actual book (but with title and author), and with finger food to share.  Download a flyer

Interfaith Community Thanksgiving Service – Sunday, November 19, 2023 from 4 pm to 5 pm – Trinity Lutheran Church.

See

event page

for details.

Interfaith Day Camp – Saturday, January 20, 2024 from 10 am – 3pm – Washington County Museum of Fine Arts.  Children grades 1-5 will learn about different faiths through art, stories, crafts and a scavenger hunt. More info and registration to come.

2024 Interfaith Retreat: "Let the Spirit Move You" – Saturday, March 2, 2024 from 9 a.m. – 2 p.m. – Shepherd's Spring Camp & Retreat Center, 16869 Taylor's Landing Rd., Sharpsburg, MD. Experience spiritual dance/movement, games, painting and more! More details and registration to come.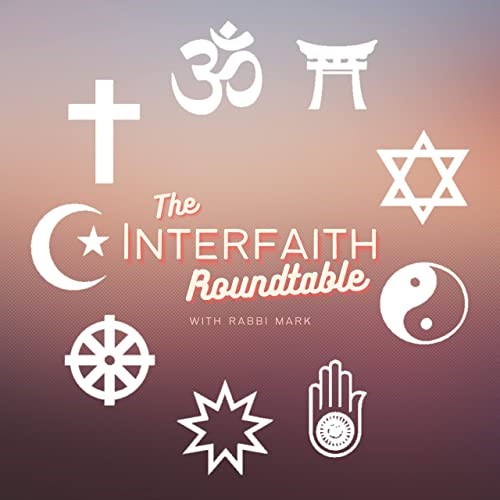 The Interfaith Roundtable

The Interfaith Roundtable is a radio show and podcast that explores various religious traditions and helps us all to understand both the differences and similarities between faiths. What is organized religion compared to spirituality? What do different religious traditions think about God? These questions and more are explored on The Interfaith Roundtable with various guests.Listen to the radio show live  every Saturday morning on 98.9 FM/ AM 1490 WARK at 9 am. Podcasts can be found HERE.
Yard Signs: "No matter where you are from, we are glad you're our neighbor." Hagerstown Area Religious Council has 18" x 24" yard signs available to show your support for diversity. The words are displayed also in Spanish and Arabic. Cost is $15. Purchase a sign online or contact HARC at 301-842-4272.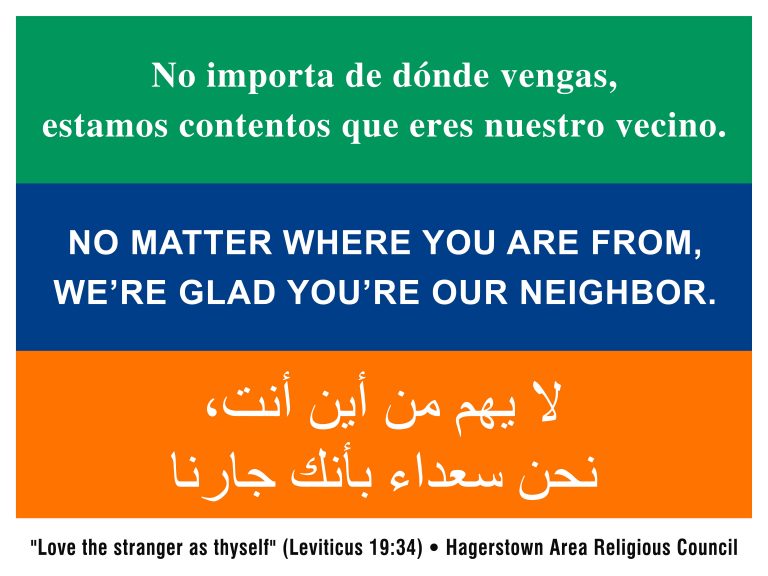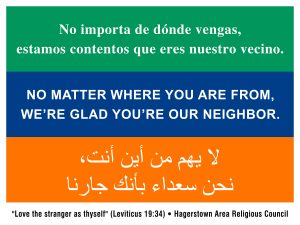 Interfaith Team
Coordinator – Rev. Sandy Boyer
Secretary – Paula Myers
Communications – Kathy Powderly
Rev. Ed Poling
Rabbi Mark Perman
Rae Smith
Jean Simmons
Paulette Lee
Jane Powell
Amy Vennett
Mike Parsons