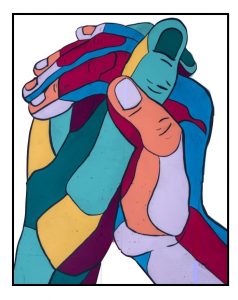 Introduction
The Interfaith Coalition of Washington County Maryland was formed by the Washington County Council of Churches (now HARC) in February 2002 with representatives from Jewish, Muslim, and Christian faiths to provide a forum for interfaith dialogue in our community following the tragic events of September 11, 2001.  Persons from Baha'i and Buddhist traditions as well as other religious and humanist communities participate today, and the interfaith work has blended into HARC as part of the organization's overall mission and identity.  Today's interfaith team is still energized by the important work of building bridges, understanding, and relationships across religious boundaries in Washington County, Maryland.
Interfaith Team Mission Statement

HARC's Interfaith Team has a purpose of bringing people of different beliefs together to promote peace, respect, and compassion in our local community.  Through dialogue and public presence, we welcome each person's unique spiritual perspective, strive to learn more about each other, and seek to honor the diversity of our various traditions.  (Revised April 19, 2022)
Get Involved
The Interfaith Team, which envisions, coordinates, and carries out events, meets regularly through the year. Persons interested in interfaith dialogue are encouraged to attend or share their ideas with the team.  Contact Rev. Sandy Boyer, Coordinator, at sandy.boyer@gmail.com or contact the HARC office at 301-842-4272 for more information.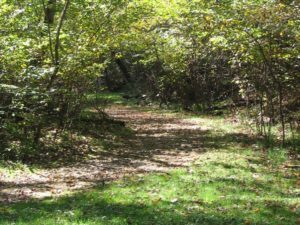 Upcoming Events
Interfaith Book Club Resumes – January 12, 19 & 26, 7-8:30 pm via Zoom –In January, we'll discuss "The Book of Joy" by the Dalai Lama and Archbishop Desmond Tutu.  These two holy men have survived more than fifty years of exile and the soul-crushing violence of oppression. Despite their hardships — or, as they would say, because of them — they are two of the most joyful people on the planet.  With this book they answer the question: How do we find joy in the face of life's inevitable suffering?  This month's book club is facilitated by Rev. Sandy Boyer, HARC Interfaith Coordinator.  For a Zoom link, contact director@harccoalition.org.  Houses of worship:  consider gathering interested members in person to join via one computer to include those who don't use Zoom and add to the fellowship. Flyer with more info
Interfaith Winter Retreat – Saturday, March 4 from 8 am – 4 pm – Shepherd's Spring Retreat Center.  More information to come
Church of the Wild Two Rivers:  Shepherd's Spring Outdoor Ministry and Retreat Center,16869 Taylors Landing Road,Sharpsburg, MD 21782 – Gathers monthly in nature in times of contemplative practice, sharing our voices in spoken word and song, and in silent walks in nature. Ecumenical, open to all or no faith traditions. Registration is free and required. As always, all are welcome.
Information: churchofthewild2rivers.com; churchofthewild2rivers@gmail.com
Next Planning Meeting:  Thursday, August 25 at 3:00 pm at Saint Ann Catholic Church in Hagerstown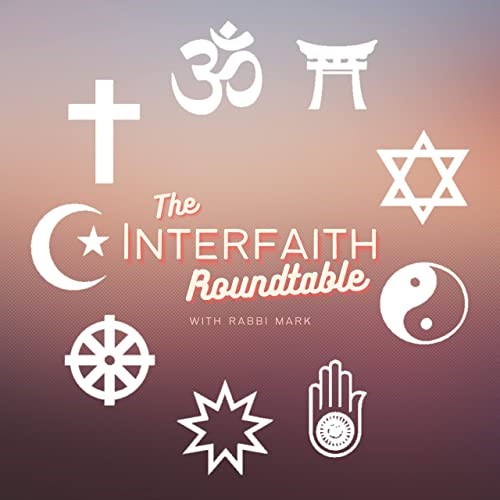 The Interfaith Roundtable

The Interfaith Roundtable is a radio show and podcast that explores various religious traditions and helps us all to understand both the differences and similarities between faiths. What is organized religion compared to spirituality? What do different religious traditions think about God? These questions and more are explored on The Interfaith Roundtable with various guests.Listen to the radio show live  every Saturday morning on 98.9 FM/ AM 1490 WARK at 9 am. Podcasts can be found HERE.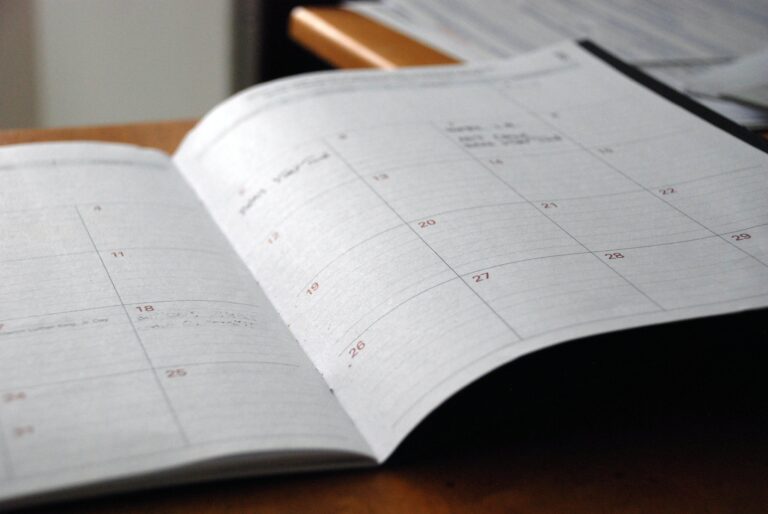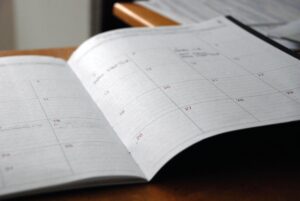 Interfaith Calendar
One of the initiatives of the Interfaith Coalition of Washington County is a weekly Interfaith calendar – a listing of upcoming events and commemorations from religions around the world. The listing is for the week ahead — Thursday to the following Wednesday – to raise awareness of what is going on with practices in the many faiths of our world. For suggestions or additional input, contact Ed Poling at elpoling1@gmail.com
Calendar for December 1-7, 2022
Saturday, December 3: Maunajiyaras—(JAINISM)—a day of fasting, silence and meditation in the five holy beings: monks, teachers, religious leaders, Arihants (Jinas, enlightened masters) and Siddhas (liberated souls).
Wednesday, December 7: Sanghamitta Day—(BUDDHISM, Theravada)—celebrates the anniversary of the arrival of Sanghamitta, the daughter of King Asoka, who started the Order of Nuns in Sri Lanka and  brought a branch of the Bodhi Tree (which still survives in the ancient capital of Anuradhapura). It occurs on/near the Full Moon Day of December. (Sri-Lanka)
Early/Mid December: Sis,et (The Elder Moon): The Elder's hair holds and shields the elderly people who share the teachings, the beliefs, and history and the culture with the children who are gathered in the warmth of the firelight.  (Coast Salish)
——- From Multifaith Calendar 2021, www.multifaithcalendar.org ———-
Download a copy of the calendar for  December 1-7, 2022 here
Yard Signs: "No matter where you are from, we are glad you're our neighbor." Hagerstown Area Religious Council has 18" x 24" yard signs available to show your support for diversity. The words are displayed also in Spanish and Arabic. Cost is $15. Purchase a sign online or contact HARC at 301-842-4272.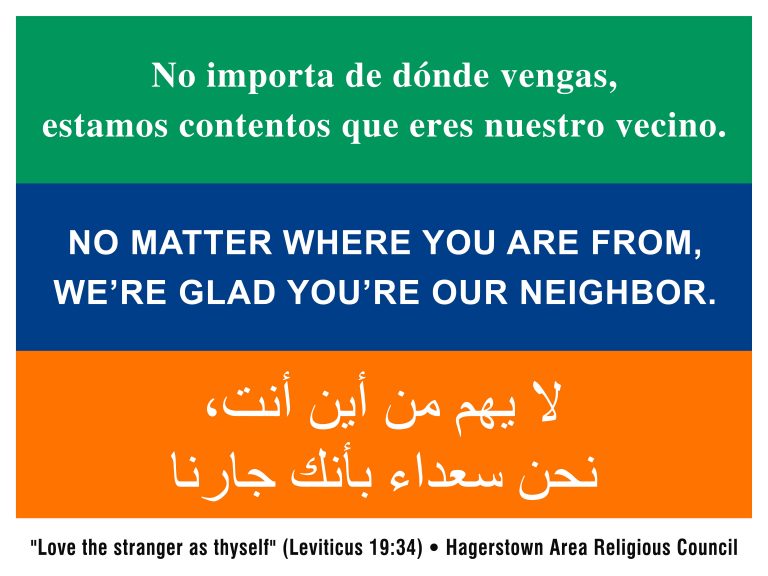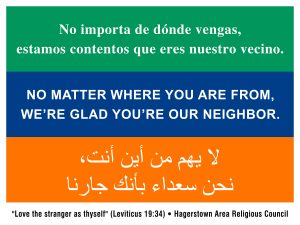 Interfaith Team
Coordinator – Rev. Sandy Boyer
Board Liaison – Rev. Valerie Wills
Secretary – Paula Myers
Communications – Kathy Powderly
Rev. Ed Poling
Rabbi Mark Perman
Imam Momin Shahzad
Rev. Margaret Brack
Rev. Katie Penick
Rev. Dave Britt
Rae Smith