Introduction
The Interfaith Coalition of Washington County Maryland was formed by the Washington County Council of Churches (now HARC) in February 2002 with representatives from Jewish, Muslim, and Christian faiths to provide a forum for interfaith dialogue in our community following the tragic events of September 11, 2001.  Persons from Baha'i and Buddhist traditions as well as other religious and humanist communities participate today. We see our coalition as an outreach of the Hagerstown Area Religious Council.
Mission Statement of the Interfaith Coalition
The Interfaith Coalition of Washington County exists to bring people of different beliefs together to promote peace, respect, and compassion in our local community. Through dialogue and public presence, we welcome each person's unique spiritual perspective, strive to learn more about each other, and seek to honor the diversity of our various traditions. (Revised November 9, 2011)
Get Involved
The Interfaith Planning Team, which envisions, coordinates, and carries out events, meets regularly through the year. Persons interested in interfaith dialogue are encouraged to attend or share their ideas with the planning team.  Contact Valerie Wills, Coordinator, at 301-745-6576 or vtwills@aol.com for more information.
Church of the Wild ~ Two Rivers is an emerging community, meeting in the midst of and sharing with the abundant life all around us. Our intent is to deepen our connection to the Sacred by being more open, present and available in each moment. We learn from the earth and trees, the skies and water, and all living beings in the web of the natural world. Located in an area where the winding Shenandoah meets the majestic Potomac River, we are nurtured in silence, beauty, and connection.
We gather monthly in nature in times of contemplative practice, sharing our voices in spoken word and song, and in silent walks in nature. We are ecumenical, open to all or no faith traditions. We hope you will join us as we come home to our truest selves in the family of all Creation.
Website:  https://www.churchofthewild2rivers.com/
Facebook page:  https://www.facebook.com/churchofthewild2rivers/
Statement of Peace— In light of the recent escalation in fear and hostility toward people of other religious traditions, the Interfaith Coalition and the Hagerstown Area Religious Council have issued a joint, public statement that encourages persons of faith in our community to use "language that promotes respect and civility and discourages language that demeans others' beliefs or incites violence." We invite all the religious leaders in our community to sign the statement to show our unity and desire to live together peacefully. Follow this link to download the Statement of Peace.
Yard Signs: "No matter where you are from, we are glad you're our neighbor." Hagerstown Area Religious Council has 18" x 24" yard signs available to show your support for diversity. The words are displayed also in Spanish and Arabic. Cost is $15. Purchase a sign online or contact HARC at 301-842-4272.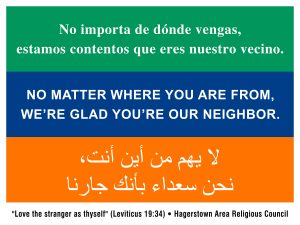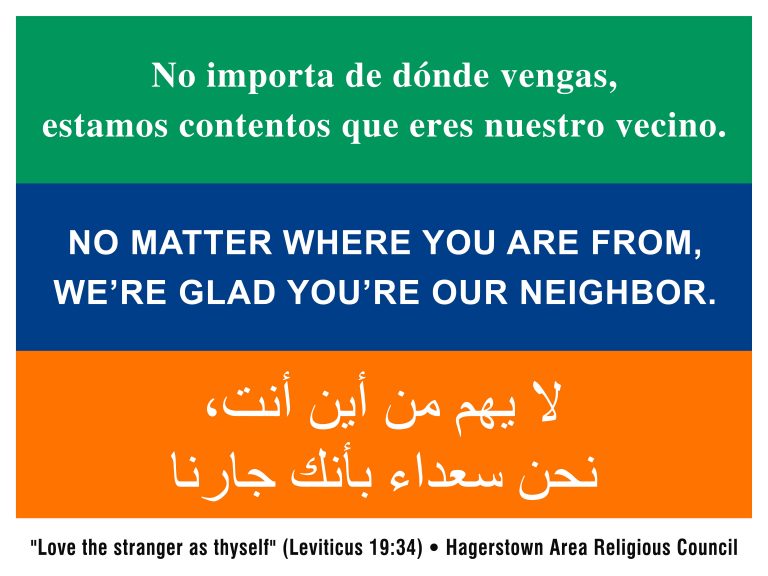 Interfaith Calendar
One of the initiatives of the Interfaith Coalition of Washington County is a weekly Interfaith calendar – a listing of upcoming events and commemorations from religions around the world. The listing is for the week ahead — Thursday to the following Wednesday – to raise awareness of what is going on with practices in the many faiths of our world. For suggestions or additional input, contact Ed Poling at elpoling1@gmail.com
Calendar for June 16- 23, 2021
Wednesday, June 16: Martyrdom of Guru Arjan Dev Ji (1563-1606)—(SIKHISM)—Guru Arjan Dev Ji was the first Sikh Martyr and the fifth Guru. He built the Harimandir Sahib (Home of the Divine) in which Sikhs could meet to learn, in the town of Amritsar (Pool of Nectar). To emphasized that the Sikh way was open to all, regardless of caste, he constructed the Gurdwara with doors facing all four directions. Sikhs remember him for contributing to and compiling the Sikh Scriptures.
Friday, June 18: Jamyang Khyentse Chokyi Lodro Anniversary—(BUDDHISM)—He was a major proponent of the Rime movement within Tibetan Buddhism, and had a profound influence on many of the Tibetan lamas teaching today. (Mahayana – Tibetan)
Sunday, June 20: Pentecost—(CHRISTIANITY, EAST)—also known as Whitsunday in some western churches, is the commemoration of the coming of the Holy Spirit upon the disciples of Jesus following his ascension (Acts 2:1-11). It comes fifty days after Easter, Pascha.
Monday, June 21: Litha—(WICCA)—also called Midsummer's Eve, celebrates the consummation of the sacred marriage in which    the energy of the God is poured out in the service of life. His sacrifice, resulting in his total immolation by the end of the season, sets the standard of self-giving in service to the Goddess. Litha comes on the June solstice.
Wednesday, June 23: Rahmat—(BAHA'I')—the sixth month of the Baha'i' year.
Month of June: Centeki (The Sockey Moon)—(ABORIGINAL SPIRITUALITY)—The sockeye returns  during this moon, which is the same color as the pale grey salmon. (Coast Salish)
——- From Multifaith Calendar 2021, www.multifaithcalendar.org ———-
Download a copy of the above Multifaith Calendar here
Upcoming Events
Church of the Wild ~ Two Rivers: Sunday, August 1, 3-5 pm meeting at Shepherd's Spring Outdoor Ministry Center, 16869 Taylor's Landing Road, Sharpsburg, MD 21782.  You can find out more on the website: churchofthewild2rivers.com and also on the Facebook Facebook page @churchofthewild2rivers.
Interfaith Winter Retreat – February 5, 2022, 9 am – 4 pm: The Interfaith Coalition of Washington County invites you to their annual winter retreat. Theme, leadership, and details to be announced.
Seeker's Circle Book Club – CANCELED Until Further notice meets six times a year at the Washington County Free Library in downtown Hagerstown, 7:00 pm Study Room 333, reading and discussing books that describe the religious life and traditions of several of the world's religions and current issues in interfaith dialogue. Inquiries to Gwen Skrabak, 301-797-1603 or Kathleen O'Connell, ko01@washcolibrary.org / 301-739-3250 ext. 166. Books can be purchased online or, if available, borrowed from the library.
Next Planning Meeting:  Contact Valerie Wills for time and location.
Open or download Upcoming Events document
Officers
Coordinator – Valerie Wills
Vice Coordinator – Paula Myers
Secretary – Carol Haggerty
Treasurer – Salih Yumlu
Publicity – Sandy Boyer and Ed Poling
For more information, contact: Ed Poling (301)766-9005, elpoling1@gmail.com
Find us on Facebook: https://www.facebook.com/groups/125909250824944/