Introduction
The Interfaith Coalition of Washington County Maryland was formed by the Washington County Council of Churches (now HARC) in February 2002 with representatives from Jewish, Muslim, and Christian faiths to provide a forum for interfaith dialogue in our community following the tragic events of September 11, 2001.  Persons from Baha'i and Buddhist traditions as well as other religious and humanist communities participate today. We see our coalition as an outreach of the Hagerstown Area Religious Council.
Mission Statement of the Interfaith Coalition
The Interfaith Coalition of Washington County exists to bring people of different beliefs together to promote peace, respect, and compassion in our local community. Through dialogue and public presence, we welcome each person's unique spiritual perspective, strive to learn more about each other, and seek to honor the diversity of our various traditions. (Revised November 9, 2011)
Get Involved
The Interfaith Planning Team, which envisions, coordinates, and carries out events, meets regularly through the year. Persons interested in interfaith dialogue are encouraged to attend or share their ideas with the planning team.  Contact Valerie Wills, Coordinator, at 301-745-6576 or vtwills@aol.com for more information.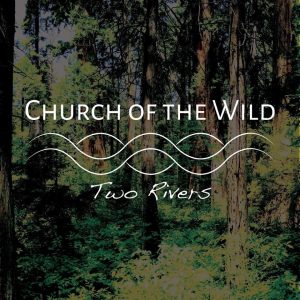 Church of the Wild ~ Two Rivers is an emerging community, meeting in the midst of and sharing with the abundant life all around us. Our intent is to deepen our connection to the Sacred by being more open, present and available in each moment. We learn from the earth and trees, the skies and water, and all living beings in the web of the natural world. Located in an area where the winding Shenandoah meets the majestic Potomac River, we are nurtured in silence, beauty, and connection.
We gather monthly in nature in times of contemplative practice, sharing our voices in spoken word and song, and in silent walks in nature. We are ecumenical, open to all or no faith traditions. We hope you will join us as we come home to our truest selves in the family of all Creation.
Website:  https://www.churchofthewild2rivers.com/
Facebook page:  https://www.facebook.com/churchofthewild2rivers/
Statement of Peace— In light of the recent escalation in fear and hostility toward people of other religious traditions, the Interfaith Coalition and the Hagerstown Area Religious Council have issued a joint, public statement that encourages persons of faith in our community to use "language that promotes respect and civility and discourages language that demeans others' beliefs or incites violence." We invite all the religious leaders in our community to sign the statement to show our unity and desire to live together peacefully. Follow this link to download the Statement of Peace.
Yard Signs: "No matter where you are from, we are glad you're our neighbor." Hagerstown Area Religious Council has 18" x 24" yard signs available to show your support for diversity. The words are displayed also in Spanish and Arabic. Cost is $15. Purchase a sign online or contact HARC at 301-842-4272.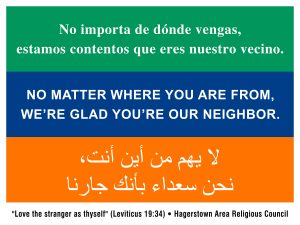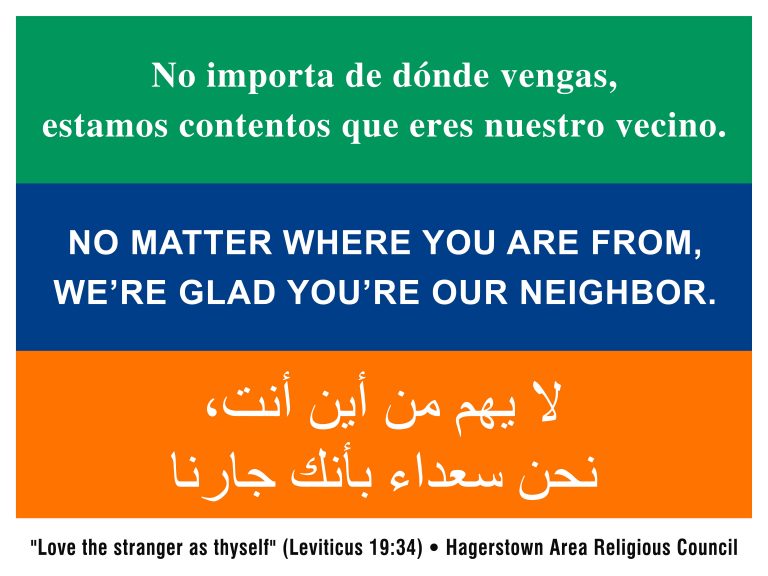 Interfaith Calendar
One of the initiatives of the Interfaith Coalition of Washington County is a weekly Interfaith calendar – a listing of upcoming events and commemorations from religions around the world. The listing is for the week ahead — Thursday to the following Wednesday – to raise awareness of what is going on with practices in the many faiths of our world. For suggestions or additional input, contact Ed Poling at elpoling1@gmail.com
Calendar for October 14 – 20, 2021
Thursday, October 7—Thursday, October 14: Navaratri—(HINDUISM)—a nine-night festival that honors the Mother Goddess in all her manifestations, including Durga, Lakshmi and Saraswati. It is a festival characterized by worship and dance. The festival culminates with Dussehra, the victory of good over evil, on the tenth night.
Tuesday, October 12—Saturday, October 16: Ghambar Ayathrem—(ZOROASTRIANISM)—celebrates the creation of plants, the sowing of the winter crop, and the return of herds from pasture.
Tuesday, October 12—Wednesday, October 20:Aymbil Ori (Second Half)—(JAINISM)—is a nine-day (approximate) festival, occurring twice a year, when devout Jains undertake a special type of fasting.
Friday, October 15

'Ilm (Knowledge)—(BAHA'I')—the twelfth month.
Dessehra (Vijay Dasami)—(HINDUISM)—celebrates the victory of good over evil: of Lord Rama over the demon Ravan, and the Goddess Durga over a demon.

Monday, October 18: Mawlid al-Nabiy—(ISLAM)—is the anniversary of the birth of Prophet Muhammad. Some Muslims mark this occasion by fasting or with parades, special prayers, or conferences. Other Muslims may mark the occasion by dedicating more time to reading the Koran. (Special worship, including prayers, fasting and other observances begin at sunset and may continue till sunset of the following day, October 19.)
Tuesday, October 19: Pavarana—(BUDDHISM)—marks the end of the three months Rains Retreat for the Ordained. (Theravada)
Wednesday, October 20—Wednesday, November 17

Kathina—(BUDDHISM)—During the month after the rainy season retreat, lay people may offer the Kathina-robe as part of the general alms-giving ceremony. (Theravada)
Installation of the Sri Guru Granth Sahib Ji—(SIKHISM)—celebrates the passing on of the Guruship to the Holy Scriptures by the then Guru, Guru Gobind Singh Ji.

Month of October: Pekelanew (The Moon That Turns the Leaves White)—(ABORIGINAL SPIRITUALITY)— This moon brings the first frost. The leaves lose their colors and turn pale, the earth is cooling down, and the people turn their efforts to hunting. (Coast Salish)
——- From Multifaith Calendar 2021, www.multifaithcalendar.org ———-
Download a copy of this weeks (Oct. 14-20, 2021) calendar here
Upcoming Events
International Day of Peace Celebration: September 26, 3-5 pm:  You are invited to our annual  International Prayer for Peace Day Celebration! We begin with a tailgate party and friendly competition, letting your creativity shine!  Set up your tailgate or trunk with a theme of peace or of your faith tradition! (see above for ideas!) Then stroll around and see what others have done- prizes will be awarded.  Don't want to create a tailgate display?  Come and be a judge or simply enjoy the afternoon gathering with friends!
Then we have the fabulous and fun music of the Underground Swamis, bringing their original style to songs and mantras from various faith traditions. We'll close the afternoon creating a beautiful flower mandala, as we recommit to being the peace we want to see in the world.  St Mark's Episcopal Church Parking Lot, 18313 Lappans Rd,  Boonsboro MD  Bring your chairs for the concert and flowers for the mandala. This event is free and Love offerings happily accepted. Download a flyer here. For more info contact Paula Myers 301-471-0590 paulamm999@gmail.com
Church of the Wild Two Rivers: Sunday, October 6, 2:30 -5:00 pm: Birchwood, 13223 Loyalty Road, Leesburg, VA 20176 -Join us at Birchwood near Leesburg, VA, on 38 acres of a unique arboretum with hundreds of rare and beautiful conifers and Japanese maples. In this very special Church of the Wild gathering, we'll draw upon the words of poet Mary Oliver as we meet by invitation among the trees of Birchwood. As usual, we'll begin with brief introductions to each other and the theme followed by 45 minutes of wandering or sitting silently, present to the Sacred around and within. We'll close with sharing and conversation.
Registration is free and required. As always, all are welcome.
Information: churchofthewild2rivers.com; churchofthewild2rivers@gmail.com
Interfaith Winter Retreat – February 5, 2022, 9 am – 4 pm: The Interfaith Coalition of Washington County invites you to their annual winter retreat. Theme, leadership, and details to be announced.
Seeker's Circle Book Club – On Hold Until Further notice meets six times a year at the Washington County Free Library in downtown Hagerstown, 7:00 pm Study Room 333, reading and discussing books that describe the religious life and traditions of several of the world's religions and current issues in interfaith dialogue. Inquiries to Gwen Skrabak, 301-797-1603 or Kathleen O'Connell, ko01@washcolibrary.org / 301-739-3250 ext. 166. Books can be purchased online or, if available, borrowed from the library.
Next Planning Meeting:  Contact Valerie Wills for time and location.
Open or download Upcoming Events document
Officers
Coordinator – Valerie Wills
Vice Coordinator – Paula Myers
Secretary – Carol Haggerty
Treasurer – Salih Yumlu
Publicity – Sandy Boyer and Ed Poling
For more information, contact: Ed Poling (301)766-9005, elpoling1@gmail.com
Find us on Facebook: https://www.facebook.com/groups/125909250824944/