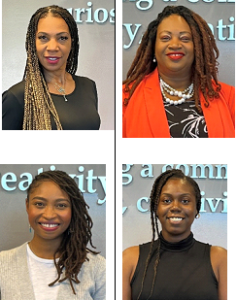 HARC is excited to announce that four awards were given for the firsts annual Equity in Education Scholarship, totaling $16,500 in awards.  $7,500 in funds were provided by Rise Up Hagerstown and generous individuals donated an additional $9,000 so we could fully fund all four recipients.  (Download the article here )
Three of the 2022 winners are in the Maryland Accelerates Program with Frostburg University at USMH and, if successful, will earn a Master of Arts in Teaching degree in just one year. Meet these three incredible women:
Chanda has served as a substitute teacher in Washington County Public Schools for the last seven years and is seeking a degree in Elementary Education.  Outside of teaching, she has volunteered with children at Elgin Station and Bester Elementary School (via Bester Community of Hope), and she is a Zumba instructor.  "I want to demonstrate to all young learners regardless of ethnicity, background or environmental upbringing, the abilities of learning are limitless and greatness can be achieved by all," said Chanda.
Lyvon has been working in the banking industry for many years, but has always wanted to be a teacher.  She loves teaching youth and adults in her church, and is excited to now finally pursue a degree in Elementary Education. As an adoptive parent, she enjoys teaching her children about different cultures, taking them on a "virtual tour" of countries around the world.  And in her spare time, she runs a small nonprofit to support adoptive and foster parents.  "I have always wanted to teach," says Lyvon. "Now it's time for me to step up and help children build the tools they need to grow."
Delphine (Del) is fairly new to Washington County and worked this past year as a paraprofessional teacher at Western Heights Middle School.  She is now pursuing a degree in Secondary Education, her decision reinforced by her experience working with students at Western Heights with behavioral issues.  "As a student who did not discover her value as a good writer until it was pointed out to her, I strive to point out every talent I see," Del shared.  "I strive to consciously teach in a manner that focuses on affirming my students instead of teaching from a place of deficit."
Our fourth winner is just beginning her college education in pursuit of becoming a teacher, and will begin classes this fall at Hagerstown Community College.  Meet this amazing woman:
Gabrielle (Gabby) Much of Gabby's life has revolved around children and her love of learning.  She was a community tutor throughout middle and high school, then got a job working in a daycare center, which first inspired her to pursue teaching.  Instead, she worked as a Residential Manager for a group home of developmentally disabled individuals.  Her dream remained and last year she began working as a paraprofessional in a fourth-grade classroom at Jonathan Hager Elementary School.  Gabby loves working with students and says "I have the desire to create a classroom where individuals with special needs are self-reliant, a setting that allows them to develop comfortably and also promote their confidence to be part of society."
We congratulate these four future educators, who "wowed" the scholarship team with their commitment and passion to serve children in Washington County!
The Equity in Education scholarship fund was established through a partnership between The Hagerstown Area Religious Council (HARC), Washington County Public Schools (WCPS), The Education Foundation of WCPS, and Rise Up Hagerstown. Multiple scholarships are awarded annually ranging from $1,500 to $5,000 to racially minoritized students (with preference to African American students) who reside in Washington County, Maryland, and are pursuing a degree in education or a related field.  Each scholarship recipient will be mentored by our team, supported and given encouragement in their endeavor.  Scholarships are eligible for renewal until a degree is obtained.
Why have a scholarship based on racial equity?  As of 2022, approximately 40% of students in Washington County Public Schools are non-white, while less than 5% of teachers and administrative staff are non-white.  We want to help overcome any financial barriers for people of color to become educators in our county.  Additionally, we know that ALL students benefit by having teachers and administrators of varying backgrounds and ethnicities, especially children who may have never had a teacher who looks like them.  We hope that tomorrow's diverse teachers will inspire a new generation of children to live to their full potential – and perhaps even become teachers themselves.
The Equity in Education Scholarship will recur annually, and we are already seeking donations for next year!  If you can contribute to this effort, please make a donation here and be sure to designate it for "scholarship."