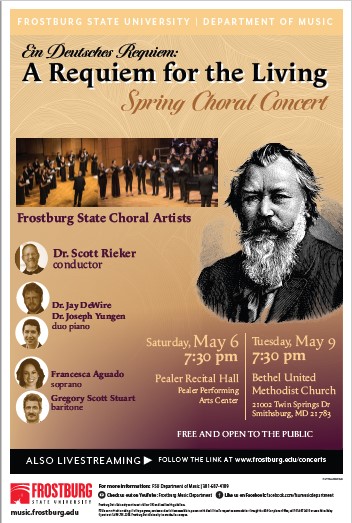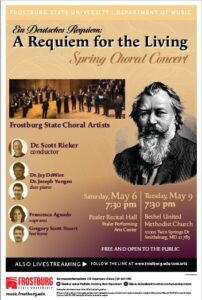 Frostburg State University's Department of Music will present the FSU Choral Artists, under the direction of Dr. Scott Rieker, in "Ein Deutsches Requiem: A Requiem for the Living" on Saturday, May 6, at 7:30 p.m. in the Pealer Recital Hall of FSU's Woodward D. Pealer Performing Arts Center. They will be accompanied by collaborative pianists Dr. Joseph Yungen and Dr. James DeWire, as well as soprano Francesca Aguado and baritone Gregory Scott Stuart, voice faculty members who will join the ensemble as soloists. The concert is free and open to the public. This event will also be livestreamed; click the "Join Stream" button on this page a few minutes before the recital is scheduled to begin, or anytime during the recital, to view the live performance.
For this event, the FSU Chamber Singers, University Chorale and Troubadours Tenor-Bass Choir will present Johannes Brahms' timeless masterwork, "Ein Deutsches Requiem" ("A German Requiem"). The choirs will combine to perform the 1871 London Version of the requiem, featuring choir and four-hand piano accompaniment. The entire concert will be presented again on Tuesday, May 9, at 7:30 pm, at Bethel United Methodist Church at 21002 Twin Springs Drive in Smithsburg, Md.
A "human requiem" as Brahms liked to call it, "Ein Deutsches Requiem" breaks with tradition, using inspiration from the Protestant Bible of Luther. Brahms wrote the text himself, giving more importance to the living. A remarkable piece of sacred music, this work was composed soon after Brahms' mother passed away in 1865; it is possible that he had in mind his great friend and mentor, Robert Schumann, whose madness and tragic death had profoundly affected the young Brahms.
Unlike traditional requiems, which offer prayers for the souls of the dead, Brahms' "German Requiem" offers comfort to the living. The music traces a journey of grief: there is sorrow, anger and pain, but also warmth, brightness and calm. The texts Brahms chose for "Ein Deutsches Requiem" – passages from the Old Testament, the Apocrypha and the New Testament – seem intended to soothe those who mourn.
Of the seven movements, four are set for chorus and orchestra. The other three include vocal soloists: a soprano in the fifth movement and a baritone in the third and sixth movements.
Download a flyer