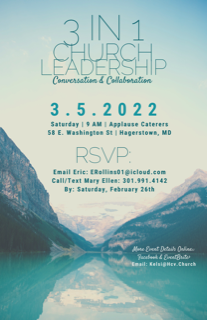 Dear church leaders,
How often have you wanted to take time to talk with other church leaders about both challenges and opportunities you face in your church community? And perhaps, get some new ideas of ways to expand and diversify the reach of your church community?
Come join us on Saturday, March 5th for Conversation and Collaboration from 9:00 a.M – 11:00 a.m. at Applause Caterers at 58 E. Washington Street, Hagerstown, MD.
We''ll have an open conversation and share strategies on the following topics:
> Growing your Community of faith – who, what and how
> Engaging volunteers more in your church ministry
> Meeting the ever-changing church climate during uncertain times
We'll facilitate an open discussion on these topics with a plan for better understanding the needs of your church community while building collaborations among those who attend. This gathering will be part one of a two part leadership development effort focused specifically on church communities.  Please plan to attend and bring up to two other staff/volunteers so that you can take advantage of all three discussion topics. We'll provide continental breakfast for all who attend this free, in-person event.
Thank you for taking time to review the linked flyer with the basic gathering information; please let us know what questions you may have about the program.  We are requesting an RSVP by February 26th in order to prepare adequate food for those who choose to attend.
We look forward to seeing you and your fellow church friends for an engaging, energetic conversation.
Your Conversation & Collaboration Conveners,
Kelsi Palmer
Church Communications & Outreach
Eric Rollins
Church Pastor
Erollins01@icloud.com
Mary Ellen Waltemire
Church Volunteer/Board Member
Leadership Coach & Facilitator
301-991-4142 (call/text)
HARC's endorsement: 
"HARC has worked with Mary Ellen Waltemire twice for strategic planning. Both times we have been amazed and blessed with her ability to keep us focused, on task, and help us accomplish an incredible amount of important work, while still having fun and building relationships."
Kathy Powderly, Executive Director