Use the links below to learn about events sponsored by network members.
Upcoming Events
Believer's Unity Walk – Oct. 7, 9:30 am to Noon – Gather at Asbury United Methodist Church. See event page for more information.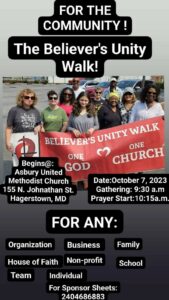 Join Cherish McMillan as she speaks at the 2023 TEDxHagerstownWomen event on October 13th. The event begins at 9am at Hagerstown Community College's Kepler Theater located at 11512 Kepler Drive, Hagerstown, MD 21742. Be sure to apply to attend at https://tedxhagerstownwomen.com/apply-to-attend It is important that you apply to attend the event as they are only permitting a certain number of people to come to the event.
Recent Past Events