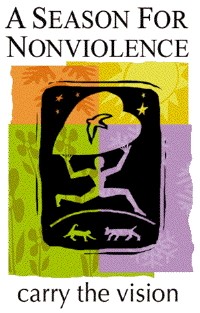 At HARC's December meeting, Rev. Sandy Boyer will introduce the international Season for Nonviolence and how we can implement specific practices into our lives and congregations.  The official Season for Nonviolence begins by marking the anniversary of the assassination of Mahatma Gandhi on January 30 and ends on the April 4 anniversary of the assassination of Martin Luther King Jr.  Between are 64 days of practice of the principles of Gandhi, King, and others to bring about peace and nonviolence in our world today.  Learn more about this Season and receive practical materials and ideas to implement nonviolent practice in your congregation, organization, or individual lives.
Thank you to Congregation B'nai Abraham for hosting this program and our meal.  Join us for a lunch and fellowship with an introduction from Rabbi Mark Perman and sharing about the Reformed Jewish faith tradition, followed by the program. Program concludes by 1:30.  RSVP requested by Friday, December 9 at noon so we can get a count for lunch.
Parking and entrance:
Limited street parking can be found on Baltimore Street in front of the synagogue.  Paid parking ($1-2) is available half a block away at the library parking lot.  If you need handicap accessible parking, there are a few spots available next to the synagogue.  Entrance to our meeting space is from the gate on the right side of the building toward the back.  For more information or directions, contact the synagogue office at 301-733-5039 or bnaiabraham1@gmail.com.
————————————————————————–
HARC meetings are typically held on the 2nd Tuesday of every month at for lunch, except July and August, with an occasional evening meeting.  When meeting in-person, the location typically rotates among different houses of faith, giving different congregations and organizations an opportunity to host.  If in-person meetings are decided to be unsafe for our members, they will be held on Zoom.