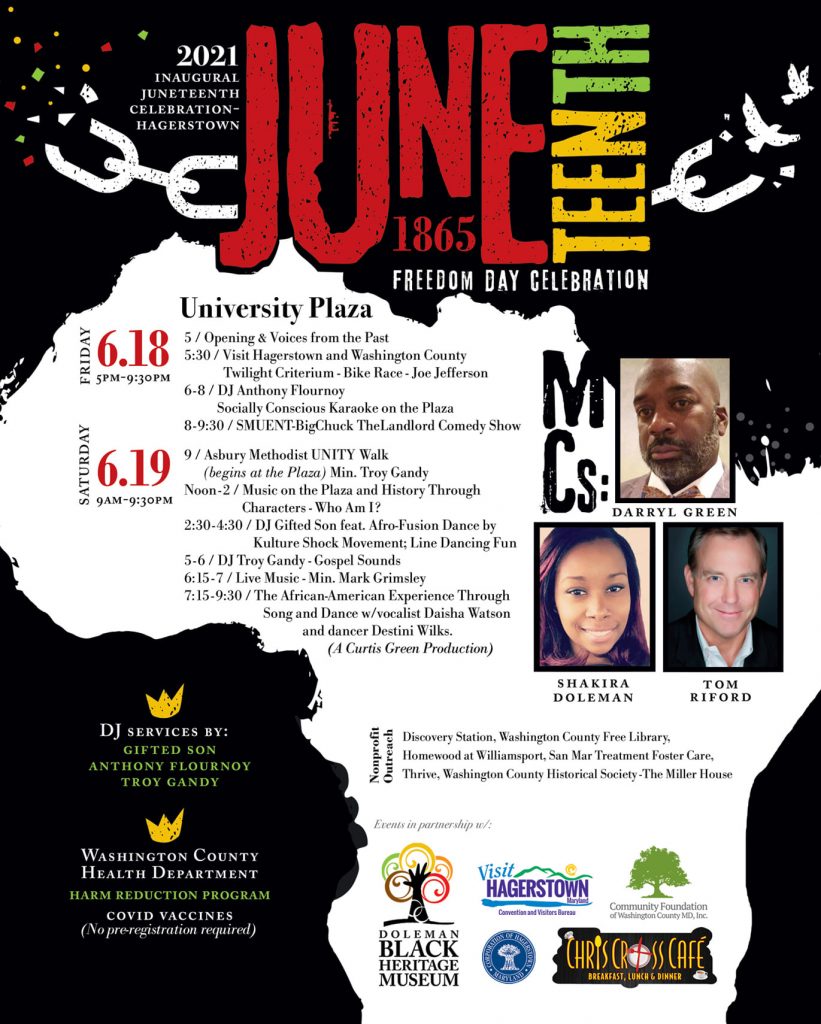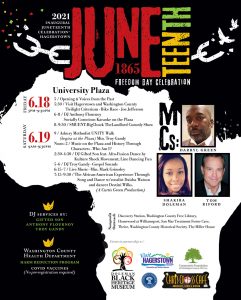 Friday, June 18 – 5 to 9:30 p.m.;
Saturday, June 19 – noon to 9:30 p.m.;
Believers Unity Walk at 9 a.m. (gather at 8:30, prayer 8:55)
The two-day event celebrates the historical significance of the signing of the Emancipation Proclamation in ending slavery and promotes unity through cultural inclusion and nonprofit resource outreach in the community.
Friday's schedule:
5 p.m., opening and Voices from the Past;
5:30 p.m., The Visit Hagerstown and Washington County Twilight Criterium bike race, Joe Jefferson;
6 to 8 p.m., DJ Anthony Flournoy with socially conscious karaoke;
8 to 9:30 p.m., SMUENT — BigChuck The Landlord Comedy Show.
Hagerstown Community Leaders lending their voices to remind us of our past is as follows:
Dr. Michael H Parsons, Morgan State University
Brittany Wedd, Executive Director of the Discovery Station-Hagerstown
SGT Carly Hose, SRO Supervisor/Public Information Officer, Washington County Sheriff's Office
Pastor Donald L. Marbury – Ebenezer AME-Hagerstown
Elizabeth Howe, CA, Reference Librarian, and Certified Archivist, Washington County Free Library
Scott Nicewarner, City Administrator of Hagerstown
Mayor Emily Keller, City of Hagerstown
City of Hagerstown-Councilwoman Shelley Thomas McIntire
Rev. Robert Burnett, Ebenezer Ame Church-Hagerstown
Pastor Les Mcintosh, IMPACT Ministries-Hagerstown
First Lady Danita McIntosh, IMPACT Ministries-Hagerstown
Tricia Morris DeLashmutt, Meritus Home Health-RN
Brian Bearese, Meritus Home Health-RN
Christopher Adams, KTS Mental Health Group, Inc. (Thrive)
SOCIALLY CONSCIOUS KARAOKE – DJ TONY & VocalExpressions, Mr. Eddie Peters
COMEDY SHOW – Bigchuck Thelandlord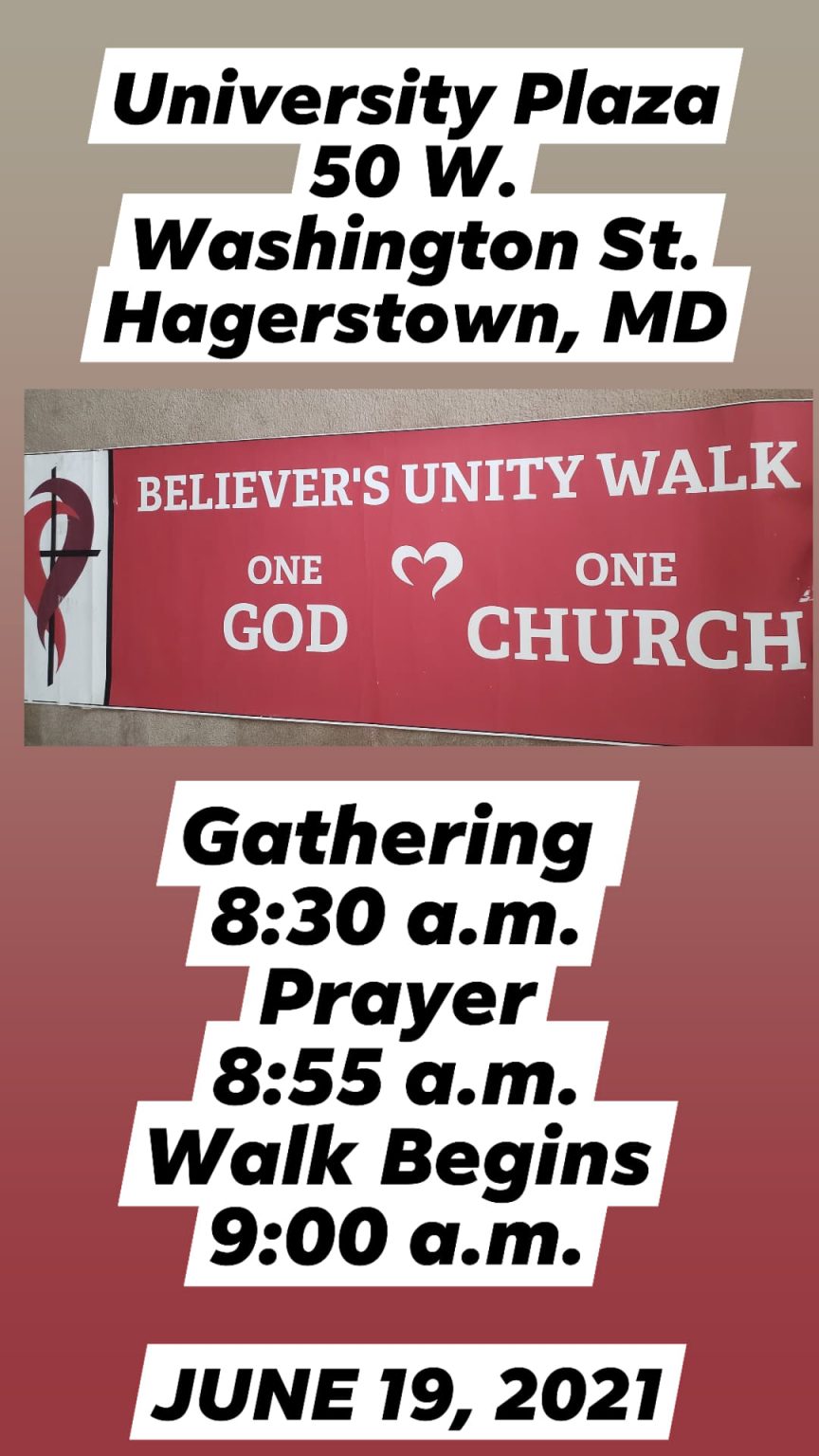 Saturday:
9 a.m. Believers Unity Walk, begins at University Plaza Park; gathering starts at 8:30 am, opening prayer at 8:55 am led by Minister Troy Gandy.
Clergy and people of faith are wanted to participate in this walk!  This is to show our unity in faith on this important day.
Noon to 2 p.m., Music on the Plaza and History Through Character's — Who Am I?;
2:30 to 4:30 p.m., DJ Gifted Son featuring Afro-Fusion Dance directed by Kulture Shock Movement, Anastasia Akuffo-Afful and general public line dancing;
5 to 6 p.m., DJ Troy Gandy with gospel sounds;
6:15 to 7 p.m., live music with Minister Mark Grimsley;
7:15 to 9:30 p.m. The African-American Experience through Song and Dance with vocalist Daisha Watson and dancer Desini Wilks.