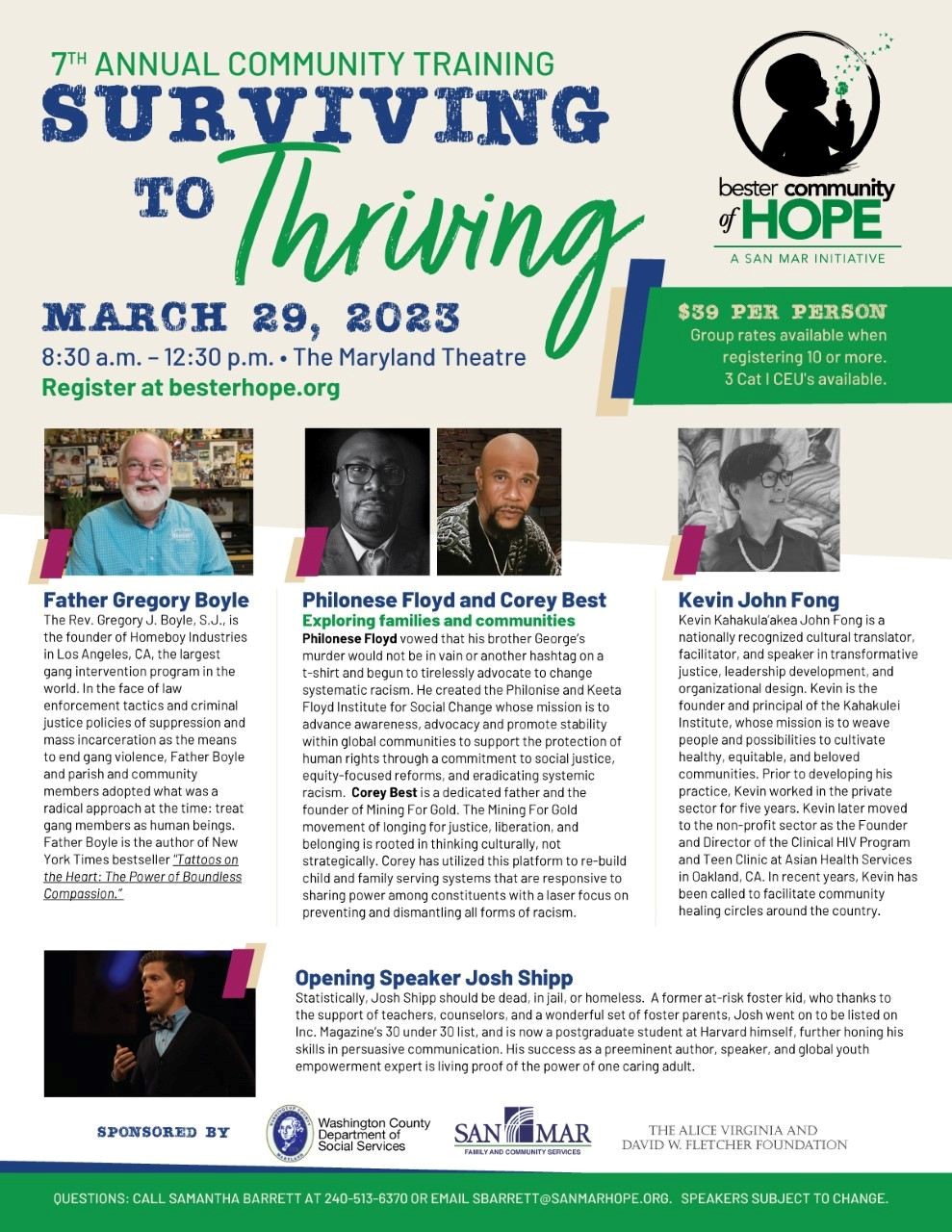 Bester Community of Hope, an initiative of San Mar Family and Community Services, is pleased to announce their 7th Annual Community Training , which includes the following phenomenal speakers:
Father Gregory Boyle
The Rev. Gregory J. Boyle, S.J., is the founder of Homeboy Industries in Los Angeles, CA, the largest gang intervention program in the world. In the face of law enforcement tactics and criminal justice policies of suppression and mass incarceration as the means to end gang violence, Father Boyle and parish and community members adopted what was a radical approach at the time: treat gang members as human beings. Father Boyle is the author of New York Times bestseller "Tattoos on the Heart: The Power of Boundless Compassion."
Josh Shipp
Statistically, Josh Shipp should be dead, in jail, or homeless. A former at-risk foster kid, who thanks to the support of teachers, counselors, and a wonderful set of foster parents, Josh went on to be listed on Inc. Magazine's 30 under 30 list, and is now a postgraduate student at Harvard himself, further honing his skills in persuasive communication. His success as a preeminent author, speaker, and global youth empowerment expert is living proof of the power of one caring adult.
Philonese Floyd and Corey Best
Philonese Floyd vowed that his brother George's murder would not be in vain or another hashtag on a t-shirt and begun to tirelessly advocate to change systematic racism. He created the Philonise and Keeta Floyd Institute for Social Change whose mission is to advance awareness, advocacy and promote stability within global communities to support the protection of human rights through a commitment to social justice, equity-focused reforms, and eradicating systemic racism. Corey Best is a dedicated father and the founder of Mining For Gold. The Mining For Gold movement of longing for justice, liberation, and belonging is rooted in thinking culturally, not strategically. Corey has utilized this platform to re-build child and family serving systems that are responsive to sharing power among constituents with a laser focus on preventing and dismantling all forms of racism.
Kevin John Fong
Kevin Kahakula'akea John Fong is a nationally recognized cultural translator, facilitator, and speaker in transformative justice, leadership development, and organizational design. Kevin is the founder and principal of the Kahakulei Institute, whose mission is to weave people and possibilities to cultivate healthy, equitable, and beloved communities. Prior to developing his practice, Kevin worked in the private sector for five years. Kevin later moved to the non-profit sector as the Founder and Director of the Clinical HIV Program and Teen Clinic at Asian Health Services in Oakland, CA. In recent years, Kevin has been called to facilitate community healing circles around the country.
Registration:  $39 per person, group rates available for 10+ people.  Register HERE
For the News Flash – January 11 edition and periodically until about two weeks before the event (they sell out):
Bester Community of Hope, an initiative of San Mar Family and Community Services, is pleased to announce their 7th Annual Community Training , which includes the following phenomenal speakers: Father Gregory Boyle, founder of Homeboy Industries in Los Angeles, CA, the largest gang intervention program in the world; Josh Shipp, former at-risk foster kid, who is now a postgraduate student at Harvard and successful author, speaker, and global youth empowerment expert; Philonese Floyd, who lost his brother to murder and is now an  advocate to change systematic racism; Corey Best, founder of Mining For Gold, focused on re-building child and family serving system; and Kevin John Fong, nationally recognized cultural translator, facilitator, and speaker in transformative justice, leadership development, and organizational design. Learn more and register