From August 1 – September 9, 2021, a total of 48 houses of worship, businesses, and organizations throughout Washington County, Maryland collected or donated 13,300 children's books for the ninth annual Community Book Drive.  22 of these were houses of worship.  The books were sorted, stickered with reading tips, counted and boxed on the United Way's Day of Caring, September 16 at the Church of Jesus Christ of Latter-day Saints.
After skipping a year in 2020 due to COVID, the books were greatly needed to refill the shelves of the Community Book Warehouse, which distributes the books to organizations working with vulnerable children, and allows families to pick out books they couldn't otherwise afford to buy.
The goal of the book drive is to improve literacy rates in Washington County and prepare young children to enter school "ready to learn." Childhood literacy and school readiness is an important issue in our community. If our children are to be prepared for college or trade school, a successful career and life, we must ensure that they are first prepared to enter school. In 2019 57% of children in Washington County Public Schools began Kindergarten without the expected literacy related skills, including word recognition, verbal skills and vocabulary skills. While Washington County had made some gains over previous years, we anticipate a backslide due to COVID and all efforts are needed to close the gap.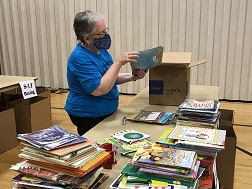 Thanks to everyone who collected books (click here and scroll down for a list) and participated in the Day of Caring book sorting!  The following groups helped out that day:  Washington County Public Library, Reach, Dot Foods, The Judy Center, The Church of Jesus Christ of Latter-day Saints, and several individuals.  Weis Brothers picked up all the books and transported them to the Community Book Warehouse, and United Way GenX Volunteers helped unload the books.  Bester Community of Hope, Hagerstown Community College, and several individuals helped pick up books from collection sites, and Lowe's donated boxes.  This truly was a community effort!
The Community Book Drive is a partnership of United Way of Washington County, Hagerstown Area Religious Council (HARC), Hagerstown Rotary Club, The Judy Center, Bester Community of Hope, and The Early Childhood Advisory Council.  Special thanks goes to Terry Gwizdala for coordinating much of this big project.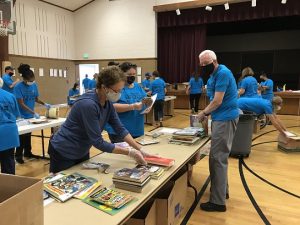 Links to photos from the book sorting: in Dropbox and on Facebook