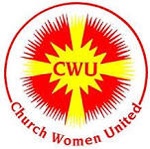 Church Women United of Washington County
Human Rights Celebration
Lunch and Program
Living a Legacy of Love: Doing God's Work
Saturday, September 9, 2023 at 12 Noon
Lunch begins at noon.
St. Andrew's Presbyterian Women will prepare the meal which includes sandwiches, salads, fruit, and dessert. Lunch cost: $12.00
The reservation deadline for the meal is Sunday, Sept. 3, 2023.
Please call or text Tammy Coyle at 240-409-2410.
Program begins at 1:00.
Theme: " Labor with Love: Respect to Heal"
"Do to others as you would have them do to you." (Luke 6:31)
The guest speaker, Rev. Rachel Black, will talk about the mission of RWN (Refugee Welcome Network) which helps families seeking a safe haven. RWN puts the words of Luke 6:31 into action. CWU has an ongoing ministry of collecting health kits which are distributed to local homeless children. You may bring health kits (or components of) to
any CWU event. Each health kit includes one of each of the following: Hand towel, washcloth, comb, bar of soap, toothbrush, toothpaste, and deodorant. All items should be placed in a gallon size zip-lock bag.
Thanks for supporting CWU and its ministry.
Download a flyer.