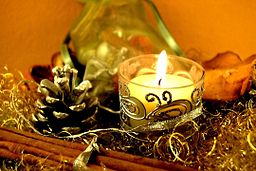 St. Ann's has decided to do their own Advent/Christmas display to include two (2) Drive-Thru nights.  One night, specifically for their Parish & one night for the whole community.  They are going to have people  from their Parish, dressed up in Santa hats, playing Christmas carols & welcoming those who drive thru.  Their high school youth group, along with several parishioners of all ages, have come together and built from scratch,  a display that represents Advent, Christmas & Epiphany.  The display will be up from Sat, Dec 5-Sat, Jan 2.  The drive thru's are being held Fri, Dec 11th from 7-8:30 for the Parish & Fri, Dec 18th from 7-8:30 for the community.
There will be hand outs for those who come to the drive-thru nights, which consists of:
Book: Matthew Kelly's, "I Heard God Laugh" book- donated by our Women of Faith Group.  They will wrapped in Christmas paper.
Gratitude Beads: A decade of beads with a saint medal on one end and a St Benedict Crucifix on the other.  The beads are able to be put on a key chain, back pack or just carried in your pocket.  They are to slide throughout the day as you look around and see things to be grateful for.  It is to promote a way to "see God" and how He is working in your life.  It is also a way to see & focus on the positive in the world, rather than the negative.  They are being made and handed out by the high school youth group.  They will have a card to explain their meaning & also allow people to know these beads can also double as a travel rosary as well.
A sheet that has a "look & find" for the drive-thru, as well as an explanation of what everything is.  It will also include info about our Parish & what Christmas masses we have to offer.
Candy Canes (of course!)
Download a flyer here.