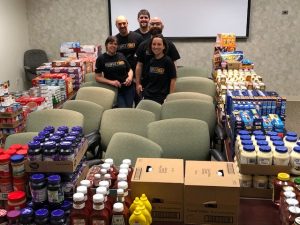 In effort to alleviate hunger for children this summer, JLG and Jerr-Dan, both part of Oshkosh Corporation, have partnered with Hagerstown Area Religious Council (HARC), Washington County Public Schools, and Maryland Food Bank to provide nearly 2,000 bags of food and 45 pantry boxes for children over the summer months when school is not in session.
JLG and Jerr-Dan employees packed the bags and boxes during Oshkosh Corporation's "Good to Give Back" week (also known as G2GB) which was held May 13-17.
The Micah's Backpack bags of food were packed by employees at the JLG McConnellsburg, PA facility. Each bag includes 2 breakfasts, 2 lunches, and 2 dinners in individual sizes to feed a child for the weekend.  JLG provided more than $9,700.00 to purchase the food through the Maryland Food Bank.  The bags will be picked up by Washington County Public Schools (WCPS) to be given out to children this summer by the WCPS Meal Machine.  The Meal Machine operates from Monday through Friday at locations around Washington County, providing free meals for anyone 18 years of age and younger; the bags will be given out on Fridays to kids who may be food insecure over the weekend.  "The team was grateful that JLG took steps to help kids in need. Once product was sorted into categories the process moved quickly" said Joel Savilonis, 2019 Good to Give Back Facility Lead for the McConnellsburg, Pa plant.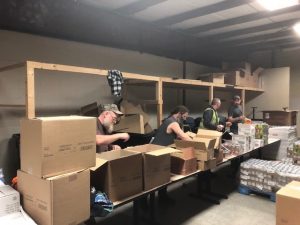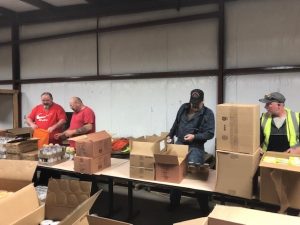 Jerr-Dan employees were also busy packing food for the summer on Friday, May 17.  Jerr-Dan employees held a food drive to collect non-perishable, easy-to-prepare food for children in South Washington County.  Children in this area of the county are more challenging to reach with food over the summer, so the boxes of food, each filled with approximately 45 food items ranging from boxes of cereal to canned meals, will be given out through three elementary schools just before summer break.  Boonsboro Elementary, Sharpsburg Elementary, and Pleasant Valley Elementary will distribute the boxes of food to families that participate in the Micah's Backpack program or are otherwise identified as food insecure.  "I am so proud to share that 100% of the food and cash donations for the pantry boxes came from the Jerr-Dan and JLG employees," said Maria Mestre, 2019 Good to Give Back Ambassador for Jerr-Dan, Hagerstown, MD office.   "We raised $1,000 in cash donations and over $700 in food donations to fill all 45 boxes. The Jerr-Dan volunteers worked diligently to make this effort a success and I thank everyone who participated."
"We do a great job of feeding kids during the school year through school lunches and Micah's Backpack, but there is always a concern about what happens over the summer when children are no longer in school and may not have access to the same supports." said Kathy Powderly, HARC Executive Director. "We are so grateful for JLG and Jerr-Dan's generosity and hard work in providing food for children during this time of uncertainty."
"We are so fortunate to have a program like Micah's Backpack to assist families in our community" said Jennifer Kumfert, 2019 Good to Give Back Hagerstown/Franklin County Lead.  No one should ever have to worry where their next meal is coming from."