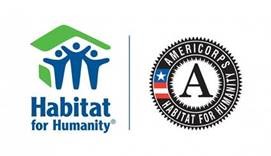 Habitat for Humanity is in need of your help! Our 2019 build season is currently underway. Volunteers are the driving force behind Habitat for Humanity; those who contribute their time and talents help keep the mission of Habitat in forward motion.  We recognize that only with the help of volunteers will we be able to accomplish our vision – a world where everyone has a decent place to live.
The construction side of Habitat works almost all year round, with the exception of the severe winter weather.  We work on jobsites Wednesday and Saturday (with some flexibility). We are currently recruiting volunteers for the remainder of the 2019 build season. Habitat offers a wide range of volunteer opportunities and we hope your organization might be interested in lending a helping hand. We are nearing completion of a duplex in Hagerstown and we recently broke ground on a single family home in Smithsburg, your group's contribution would bring us one step closer to providing decent affordable housing for families within our community.
Group Volunteer Opportunities – Group construction projects provide a wonderful opportunity for bonding and team enrichment.  From corporate groups, to groups of all faiths, to high school and college groups – we welcome all partners who are spurned by a passion to create decent and affordable housing for Washington County residents.
We can currently host groups of 8-10 people at any given time; however, special accommodations can be made for larger groups. I have attached some more information for you and your group on what to expect at a Habitat for Humanity build.
Should you decide your group would like to volunteer, HFHWC will provide water, snacks and lunch arrangements can made for your group.
No experience is required!  There will be a small orientation and new volunteers will receive direction from experienced volunteers, crew leaders and Habitat staff.
I would like to speak with you to answer any questions you may have about Habitat for Humanity and our volunteer opportunities – Please let me know when would be a good time for you. We thank you for your consideration to volunteer!
Jessica Gumm, Volunteer Services Coordinator/AmeriCorps Member
Habitat for Humanity of Washington County
304-350-7354
Download a JobSite information sheet here.