Labyrinth Walk
October 13, 2019 @ 1:00 pm

-

3:00 pm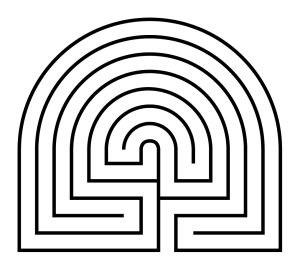 Two different labyrinths  will be open on October 13 from 1:00 p.m. to 3:00 p.m. on the grounds of the Unitarian Universalist Church of Hagerstown at 13245 Cearfoss Pike. The labyrinth walks are free and suitable for all ages.
The indoor labyrinth is a Petite Chartres pattern, a smaller version of the 12th century labyrinth on the floor of the Chartres Cathedral in France. The outdoor labyrinth is the older Classical or Cretan Pattern.
Unlike the corn mazes popular this time of year, which are puzzles to figure out, a labyrinth is a meditative activity with a single path which winds into the center and out again.  People walk labyrinths as a spiritual practice and a tool for relaxation, stress relief and problem solving.
Labyrinths have been a Christian practice since the early Middle Ages when  walking one was a symbolic pilgrimage to the Holy Land. Today, some churches set up temporary labyrinths during specific seasons like Advent or Lent.  Labyrinths are also found in many other cultures with some patterns dating back to prehistoric times. Modern labyrinths are located in parks, gardens, hospitals, retreat centers, libraries, and other public and private spaces.
For more information about labyrinths and a guide to other ones open to the public, visit www.labyrinthsociety.org.
The October 13 event at the UU Church is the last labyrinth walk in 2019. The labyrinths will reopen to the public in April 2020.
To learn more about other activities at the church, visit uuhagerstownmd.org.
Getting there: The Unitarian Universalist Church is about one mile west of I-81, exit 7B at 13245  Cearfoss Pike. Cearfoss Pike is also Maryland Route 58 and in Hagerstown is called Salem Avenue.  The church is between Hoffman's Meats and the Hagerstown Youth Soccer fields.