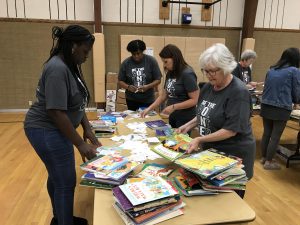 From August 1 – September 12, 2019, a total of 66 businesses, houses of worship, clubs, and organizations collected children's books throughout Washington County, Maryland for the 8th Annual Community Book Drive.  This is the highest number of collection sites in the history of the book drive, and resulted in a record year of more than 17,000 books collected.
Volunteers from Weiss Brothers and HCC, community volunteer Raymond Holton, and organizer Terri Gwizdala picked up the books from various collection sites and delivered them to the Church of Jesus Christ of Latter-day Saints in Hagerstown.  The church generously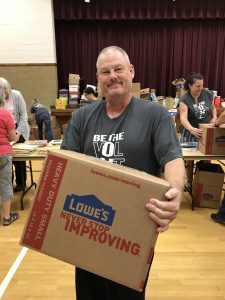 provided space in their gym where the books were sorted by age group, counted, stickered with reading tips, and re-boxed by community volunteers on the United Way of Washington County's Day of Caring, September 19, 2019.
The goal of the book drive is to collect children's books with a purpose of getting them into the hands of vulnerable children and improving literacy rates and Kindergarten readiness in Washington County.  Books collected are new or gently used and are geared to children ages birth through elementary school (0-11).
Childhood literacy and school readiness is an important issue in our community. If our children are to be prepared for college or trade school, a successful career and life, we must ensure that they are first prepared to enter school. In 2018 57% of children in Washington County Public Schools began Kindergarten without the expected literacy related skills, including word recognition, verbal skills and vocabulary skills.
By the time children enter school, it is extremely difficult, and in some cases nearly impossible, for the school syste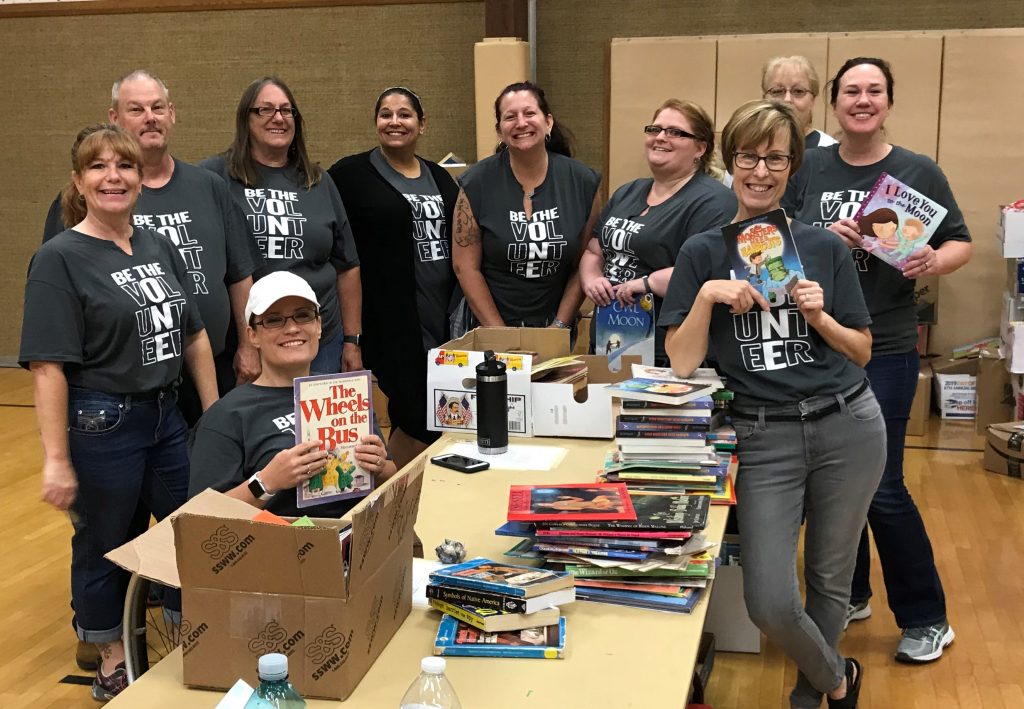 m alone to get children to read on grade level.  Unfortunately, a great many children who are not reading on grade level by third grade may never catch up. In fact, a study by the Annie E. Casey Foundation points out that, "Children who cannot read by the end of third grade are four times as likely to drop out of high school."
By making sure that our children do not fall behind today, we are taking steps to ensure a better educated workforce, reduced crime levels, and decreased dependency on social services in our community tomorrow.
The Community Book Drive is a partnership of the Hagerstown Area Religious Council (HARC), the Hagerstown Rotary Club, and United Way of Washington County, Maryland.
The following organizations participated in collecting books this year:
A to Z Insurance Services
Amcor Hagerstown
Bella Salon and Spa
Boonsboro First Christian Church
Boonsboro Middle School
Breast Cancer Awareness Cumberland Valley
Bridge of Life Church
Christ's Reformed Church UCC
Church of the Holy Trinity UCC
City Hall, Hagerstown
City of Hagerstown, Department of Community & Economic Development
Clear Spring Middle School
Concordia Lutheran Church
Congregation B'Nai Abraham
Desert Rose Café
Discovery Station
Doing Better Business
First Christian Church
First Data
First United Bank
Growing Tree Preschool
Hagerstown Community College
Hagerstown Church of the Brethren
Hagerstown Police Department
Hagerstown Rotary Club
Hagerstown Sunrise Rotary
Hamilton Nissan
Haven Lutheran Church
Herald-Mail Media
Horizon Goodwill Industries
Hospice of Washington County
John Wesley United Methodist Church
Keller Stonebraker Insurance, Inc.
The Kosie Nest, A Family Daycare
Maryland Food Bank
Maryland Vision Institute
Meritus Family Practice/Community Book Warehouse
Meritus Medical Center
Middletown Valley Bank
Mt. Nebo Preschool
Mt. Zion Lutheran Church
Mulberry Lofts
Otterbein United Methodist Church
Patriot Federal Credit Union
Peterson, Marisa
Potomac Case Management
Register of Wills
Smithsburg Middle School
Soroptimist of Washington County
St. Andrew's United Methodist Church
St. John's Episcopal Church
St. John's Lutheran Church
St. Mark's Episcopal Church
St. Mark's Lutheran Church
Trinity Lutheran Church, Boonsboro
TSYS Managed Services
Unitarian Universalist Church of Hagerstown
United Bank
United Way of Washington County, MD
University System of Maryland at Hagerstown (USMH)
Valley Co-op
Hagerstown City Market
Washington County Chamber of Commerce
Washington County Health Department
Western Maryland Hospital
Williamsport Rotary Club
Women's Club
Zion Reformed UCC